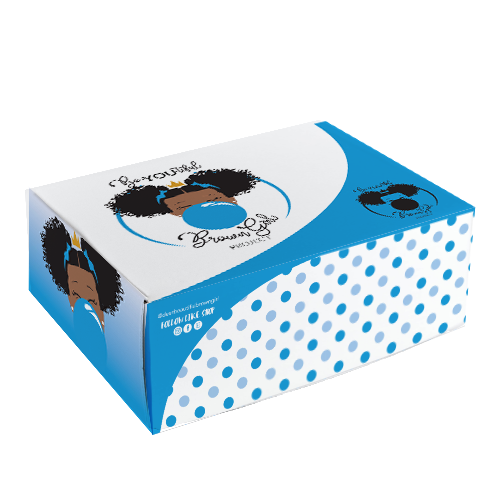 Classic BeYOU Gift Box: BLUE
💙Add a BeYOUtiful Box💙
Give your Beautiful Brown Girl the perfect gift.... just because! Add a Classic BeYOU Gift Box to your order. All items with your current purchase will be shipped inside of a GIFT BOX inside of a plastic mailer to protect the box during shipment. Any items that do not fit inside the box will be shipped inside the mailer with the box. *All of our Gift Boxes are 8x6x3. Our Signature BeYOU Notebooks and Composition Books do not fit inside the boxes. Purchasing the box will automatically upgrade your shipping to Priority Mail at no extra cost.  Our Gift Boxes make the best gift. They are great for presentation and they can be used over and over again. These boxes make the perfect keepsakes box, jewelry box, pencil box and more! Collect them all - they make the perfect decoration on a bookshelf or desk. Our Classic BeYOU Gift Boxes come in PINK, PURPLE, BLUE, RED and YELLOW! 
Our Classic BeYOU Gift Boxes are: 
✅ Durable, bright and colorful- They make the perfect keepsakes box. ✅ Fun and inviting - They  make the perfect gift


Product Details: 
Boxes are cardboard - will be shipped in a plastic poly mailer

Measure 8x6x3 

Some items do not fit inside the box (ie Journals that are 6x9 or larger) - but will still ship with your order. 

OUR CLASSIC BEYOU GIFT BOXES COME IN PINK, BLUE, YELLOW, RED AND PURPLE. 

Important Boutique Details: 
Dear Beautiful Brown Girl is a Lifestyle Brand for Black Girls. We deliver innovative products to inspire a strong sense of self and cultural pride. We strive to encourage Black Girls to walk this earth with a sense of self so strong that it cannot be manipulated or demeaned by anyone.

🤎 We are a Black owned, Woman-Owned Business, located in Philadelphia Pa. All items are professionally made and packaged and ship within 7-10 business days. We work to get items out within 2 business days unless otherwise noted. Items are shipped USPS (First Class or Priority Mail). We are not responsible for lost or damaged items once shipped - You can purchase shipping protection here for only $1.98. 

🧾Please check the size and color of the item being ordered. You will immediately receive an order confirmation, if there is an issue with your order please contact us immediately. We are not responsible for color or size changes if notified after the item has shipped.  Additionally, we do not accept returns or exchanges. For more information on our shipping policy click here. For more information on return/refund policy click here. 

IF YOU HAVE ANY QUESTIONS PRIOR TO PLACING YOUR ORDER, EMAIL US AT INFO@DEARBEAUTIFULBROWNGIRL.COM